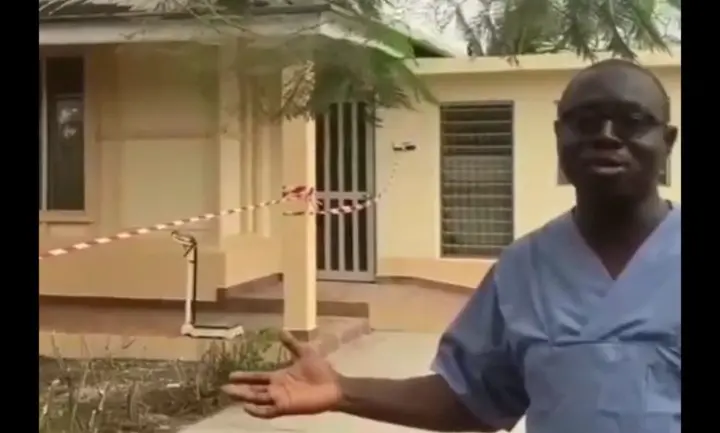 Bowanle Abimbola, the doctor treating the Italian with COVID-19 (coronavirus) in Lagos has revealed why he doesn't wear a face mask.
The first case of coronavirus was confirmed in Nigeria after the Italian man travelled down to the country for a business meeting. He took a trip to Ogun State where he fell ill and was immediately rushed down to Lagos where he tested positive to coronavirus.
The Italian man whose identity is yet to be revealed has since been quarantined at a facility in Lagos built for such infectious diseases.
Bowanle Abimbola who spoke in the interview below revealed that one can only contract the virus when one moves less than 2 meters close to an infected person.
Meanwhile, the commissioner of health in Lagos, Prof. Akin Abayomi has revealed why the patient was brought to Lagos instead of leaving him in Ogun State where he fell ill.
Abayomi said: "Some people have criticised us for bringing a patient from Ogun state to Lagos state. Let me remind you that the patient started his journey in Lagos state, ended up in Ogun state. Lagos is the designated testing centre for Coronavirus and Lagos has very sophisticated containment facilities while other states are still trying to develop similar capacity. If we have left the patient in Ogun state, the transmission is a factor of time. The longer you leave it, the more opportunity you have for transmission. So it was critical for us to collaborate with the state, bring the patient to where we have the expertise to contain, to make the right diagnosis and to deliver the correct treatment".